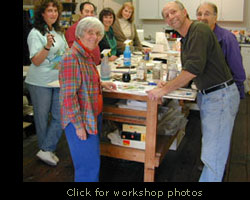 In my studio/classroom, we've got lots of beautiful glass for you to create your own fabulous personally hand-crafted works of glass art.

Come meet new friends, or put together a gathering of your own friends, and come play and create.

One-Day Introductory Workshops
These introductory classes give you all the information you'll need to get started, including cutting glass, design instruction and some secret information that only glass artists know. . . I supply all the glass, tools, materials, drinks and snacks, and do the kiln firings for you! All you need to do is show up and let your creative juices flow.

Saturday and Sunday, February 13 and February 14, 2010
Back to back "One-Day Workshops"
Come for one day, or come for both!
From 10 am to 4 pm each day.
Make a couple tiles, and an 8" plate or bowl- or something of your own Idea
Snacks and drinks included.
Bring your own lunch.
Please contact me for availability.


Sunday, March 7
Fusing Workshop with a Theme!

Passover "Seder Plate" Workshop!
Bagels and Lox for lunch.
In this Workshop, we'll look at what ritual elements are necessary for a Seder Plate, and will make a 10" simple Seder Plate that you may use at this year's Passover Seder. No experience necessary.
Please call for more information - Studio-206.706.2588 - Mobile-206.390.8689


Saturday and Sunday, April 10 and 11, 2010
Two-days of Open Workshops
I'll be around to assist you - but it's an opportunity to make what you'd like - cost is based on amount of kiln space used.
Please contact me for availability.


NEW SERIES
Beginning in April, a series of Wednesday evening workshops designed to allow time to develop ideas and to make something each week over a period of time.
Times: 6:00 pm - 9:00 pm
Dates: April 7th, 14th, 21st, 28th, and May 5th 2010
Price: Any three evenings for $225.00/person OR
sign up for all five weeks for just $325.00!

Deadline for sign-ups for the above series by April 1, 2010.

To Register:
All workshops require registration and are payable in advance.
Simply call or

to let us know which workshop you are interested in, and mail a check to Roger Nachman, 310 NW 40th St., Seattle, WA 98107.
Students may cancel for any reason seven or more days in advance of the workshop without penalty - a full refund or credit will be offered.
There is a $50 fee for cancellations three to six days in advance of the workshop date. However this fee may be waived if Roger can fill your slot.
All attempts to do so will be made, but there are no guarantees.
There are no refunds for cancellations 48 hours or less before a workshop.
If you are canceling on the cusp of one of these deadlines it is advised that you do so by phone call - (206) 390-8689 AND by an email roger@nachmanglass.com.

All workshops at 310 NW 40th St. in Fremont, (40th and Leary Way) en route to Ballard!


Workshops are an excellent opportunity for team-building within your office or community. If you would like to schedule a private, personalized class, or for more information, please call me anytime at (206) 706-2588.